U of C researcher teleports photons across Calgary
Research paving the way for unbreakable encryption keys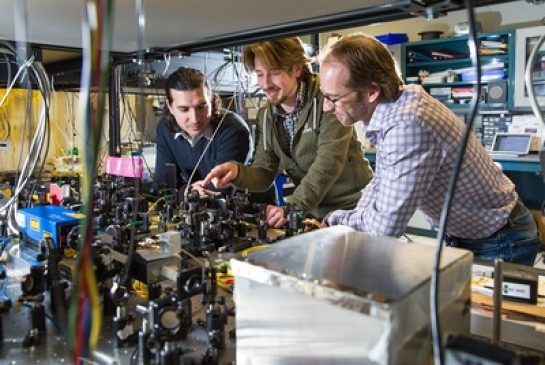 The folks at the University of Calgary are experimenting with teleportation, but it's not quite the kind you see on Star Trek.

Professor Wolfgang Tittel of the university's physics and astronomy department has made waves (or is it particles?) in the science community by teleporting the quantum state of a photon six kilometres across the city – a new distance record.

His paper was recently published in the journal Nature Photonics.

It all has to do with quantum entanglement. If you've been reading your Popular Science magazines, you know that quantum particles can become entangled, meaning they're kind of like soulmates. Even when they're far apart, they can still affect one another instantaneously in a way Einstein described as "spooky."

That's where Tittel comes in. He and his crew started by creating a pair of entangled photons and then zipping one off to city hall through fibre optic cable infrastructure lent by the city.

At the same time, they cooked up a third photon (not entangled) at the city's data centre in Manchester and sent it to arrive at the same time as the entangled photon.

"It turns out that the particle that remained here was in the same state as the particle we created in Manchester. Somehow, that state was transferred between city hall and the university over 6.2 kilometres."

Spooky.

If you're confused, don't feel bad. Einstein was too. But if you're wondering what the practical applications are here, think Snowden, not Spock.

Tittel said as this process is refined, they'll be able to encode keys – zeros and ones – into a photon's state and send it along. If anyone intercepts the photon's state along the way, the sender and the receiver will both know.

"If we find out this has not happened, then we know two people can share a perfectly encrypted key," said Tittel.